Your MIDDLE SCHOOL student
TRANSITION TO THE FUTURE
Quick Link to Middle School 6-8 Documents and Guidelines Click Here
To find what middle school your child's elementary school feeds into, click here:Elementary - Middle






About our Middle School Division:

The middle school should serve the needs of students from eleven to fourteen years of age in grades six, seven, and eight. The school environment and program serves as a transitional phase between the elementary school and the high school. The school is an educational laboratory for early adolescents. Interdisciplinary teaching, flexible scheduling, varied instructional methodologies, extensive counseling and guidance, independent study, and exploratory opportunities are a part of the middle school program. The middle school provides an environment which focuses on the student and emphasizes opportunities for success.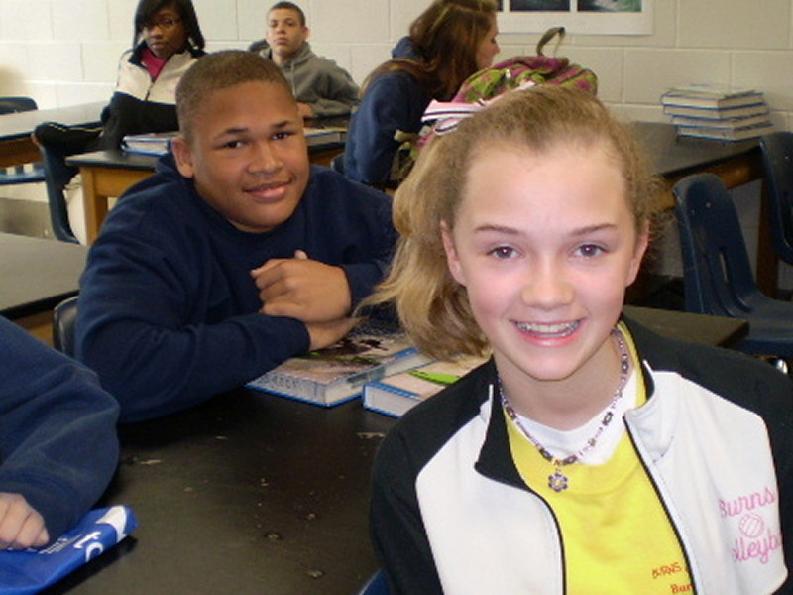 A major function of the middle school curriculum is to provide for the development of skills and concepts essential to acquiring and using knowledge. Learning experiences that build on the acquisition of knowledge, include interdisciplinary activities designed to develop students' comprehension, interpretation, application, analysis, synthesis, and evaluation. The development of students' communication skills is emphasized. Students' physical development is enhanced with opportunities to acquire an optimum level of fitness, to refine motor skills, and to use specific sport skills in cooperative and competitive situations. The curriculum meets the requirements of the Mobile County Public School System and the Alabama State Courses of Study.
Since middle school students are in a transition from concrete operations to formal operations, the curriculum provides key instruction that progress from the concrete to the semi-concrete and finally to the abstract.
The curriculum provides opportunities for transfer of learning to situations outside the classroom and contributes to the development of productive citizens.
A broad program of exploratory courses and electives is a part of the curriculum. Opportunities for students to explore areas of special interest and to develop individual talents is provided. Creativity is encouraged and nurtured. Students are given opportunities to engage in individual research and projects.

The Division of Curriculum and Instruction is charged with developing a viable curriculum for all students. The staff ensures that the curriculum is aligned to the Alabama and national standards at every level and in every core subject.
All middle schools offer a full curriculum of core subjects and unique courses and electives. Gifted programs serve students throughout the system. Special needs students are also served throughout the system and at two special schools. English Language Learners are included in all classes and have additional support from ELL teachers.
For more information, please visit the MCPSS website Curriculum and Instruction page.
What We Offer:
Language Arts, Mathematics, Reading, Science and Social Studies are taught at all grade levels. MCPSS Curriculum Guides as well as each area's content standards are posted on the MCPSS website: http://www.mcpss.com.
In addition to the core subjects, MCPSS offers many extracurricular programs -- including first class athletics for boys and girls -- and superior fine arts programs in music, dance, drama and the visual arts.
Comprehensive special services are available for special needs students, including gifted students, on most campuses, including transportation when necessary.
Initiatives:
· Alabama Reading Initiative / Project for Adolescent Literacy
· Alabama Math, Science, Technology Initiative
· Engaging Youth in Engineering
· Smart Math
· Criterion Reference Tests
· Explore Testing
· Alabama Reading and Math Test
· Alabama School Assessment
· Stanford Achievement Test
Frequently Asked Questions:
► Are Mobile County Schools accredited?
Yes. All 98 Mobile County Public Schools are accredited through the
Southern Association of Colleges and Schools.

► What do I need for registration?
You will need an original birth certificate and original Social Security card;
immunization card; and 2 proofs address. Driver's license cannot be used as a proof of address.

► If my child is transferring from an out-of-county school system,
will a placement test be required?
As long as the child is transferring from a Southern Association of Colleges
and Schools (SACS) accredited system, no placement test is required.

► My child was enrolled in a magnet program in another school system.
Will he/she automatically be enrolled in MCPSS's magnet program?
No. Students are selected for the magnet program through a lottery drawing.

► How do I apply for a magnet program?
Applications are accepted at any time during the school year,
but students are selected and assigned in the fall of each year.
You can pick up an application at any of the magnet schools or by visiting Central Office.

► What are CRTs?
"CRTs" -- or Criterion Reference Tests -- are designed to test content
standards in each core subject. CRTs are developed and administered to
determine if the specific content was learned.

► Who do I call for -
Attendance/School Zones -- 221-4256
Curriculum and Instruction -- 221-4141
English Language Learners -- 221-5189
Special Education -- 221-4220
Transportation --- 221-5260

MOBILE COUNTY PUBLIC SCHOOL SYSTEM
Mrs. Martha Peek - Superintendent
Dr. Carolyn Lee Taylor - Assistant Superintendent
Ms. Helen Miles - Middle School Coordinator

DIVISION OF CURRICULUM & INSTRUCTION
MIDDLE SCHOOL EDUCATION OFFICE
1 Magnum Pass
Mobile, AL 36617